Diesel 89 initiative (mercedes)
29-12-2015, 10:16 PM
SkauneJohan
Junior Member


Posts: 2
Joined: Dec 2015
Reputation: 0
Diesel 89 initiative (mercedes)
HI all, new/old member here with curiosity about mercedes change in prechamber design and how it affects wvo driving

more exactly the "diesel 89 initiative" features included a new prechamber and oblique fuel injection wich means that the fuel spray only partially hits the glowing bulb, instead of aiming on it like before. From a vegoil point it seems like the older design might be better for thicker oil

the factory also claim horsepowergain 75hp in the om601 that previously only had 72hp and similar increase from bigger engines and maybe the noise got less too?

any input from you more experience guys/gals? all info about the difference between pre/post 89 is interesting to me

cheers/Johan
29-12-2015, 10:59 PM
RE: Diesel 89 initiative (mercedes)
The alteration of the injector angle has improved the mixing quality of air to fuel. Slight gains in power were apparent, the main benefits were reduction in smoke (particulate) in the exhaust gas.
--The actual injector angle change, and the reshaping of the hot-spot bulb is only slightly different anyway, and improves turbulence in the pre-chamber.

The change has little if any (Read--no) affect on using alt fuels such as veggy.
---
Swansea Used Cooking Oil Collection



G.L. type 180Litre Processor, WBD, settle, filter and enjoy!

DONT BELIEVE THE CLIMATE-CHANGE and CO2 LIES -JUST A WAY TO TAX YOU EXTRA, AND PASS EVER MORE CONTROLLING LAWS ON YOUR LIVES!

--Courtesy --Unelected E.U. DICTATORSHIP


[b] "The 21st Century is when it all changes....
--And you've got to be ready...."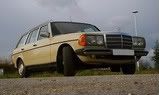 Make sure your tinfoil hat has a good connection to ground.
30-12-2015, 08:41 AM
SkauneJohan
Junior Member


Posts: 2
Joined: Dec 2015
Reputation: 0
RE: Diesel 89 initiative (mercedes)
that is great, was there any change on the injector nozzles, injectors or were everything there the same just more angled?

cheers/Johan
User(s) browsing this thread: 1 Guest(s)